Movie Review
Be Cool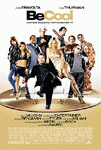 C
Be Cool shows the damage that can ensue when Hollywood does everything wrong.
Be Cool shares a lot in common with movies like Deep Impact and The Day After Tomorrow; it is a disaster film, and shows the damage that can ensue when Hollywood does everything wrong.

Be Cool is the sequel to Get Shorty, and picks back up on the story of Chili Palmer, as he decides to leave the movie business and get into the more down-to-earth music biz. He happens upon a young bar singer named Linda Moon, and Chili thinks that Linda's talent mixed with his own business savvy can put Linda and her songs right at the top of the charts. Chili embarks on a course of action that involves sidestepping Linda?s manager (Vince Vaughn), outwitting the Russian Mafia, and butting heads with a posse of gangster rappers and their leader (Cedric the Entertainer). It's hard to say much more because there is so little plot, and that "nothing" plot is somehow difficult to follow despite the lame-brained nature of the proceedings.

Travolta does a charm-less rehash of his character from the previous film. His scenes have little impact or energy, and it strangely seems as if he's not even in the picture that much. He is supported by an ensemble of actors who steal his spotlight, and they all seem to have both too much and too little screen time. Uma Thurman soils her independent image by playing a washed-up Aerosmith groupie; somehow she is more dignified with dirt and blood covering her face in Kill Bill than she is just speaking here. Vince Vaughn does his usual thing, but with a lower humor gradient. And Harvey Keitel seems to be in the thing just so they could say that they got three people from Pulp Fiction, making it just that much cooler (guess what, it doesn't work).

There are a few decent lines of dialogue that take jabs at the entertainment industry; these lines belong in a different, wittier movie. In fact, the good lines in this script only serve to highlight Be Cool's glaring hypocrisy: it is supposedly a satire on the entertainment industry, while at the same time being exactly the kind of trash that provokes satire in the first place.

The fact that Be Cool has an all-star cast makes it even more uncomfortable, as you see that even famous actors are pawns in the Big Studio chess game. What were the performers who signed onto this film thinking? Did they read the script? Did they actually think it would make a decent movie? I can understand doing something for the money, but are Travolta, Thurman, Keitel, The Rock, and Vaughn really that hard up for cash? It just doesn't make sense to me.

This is one of those movies that starts sucking from the first minute of screen time and never lets up. And it's almost as if the filmmakers/actors are conscious of how bad it is, but don't care enough to clean up. This is a Hollywood misfire, the kind of movie that makes people hate all movies.

Scott's Grade:
C
Scott's Overall Grading:
417 graded movies
| | | |
| --- | --- | --- |
| A | 15.1% | |
| B | 59.2% | |
| C | 24.5% | |
| D | 1.2% | |
| F | 0.0% | |
'Be Cool' Articles
Lee's review C+
March 5, 2005 When you have a cast like this, there?s more fun to be had compared to many flicks, and the talents behind the scenes have drained away a lot of its potential. -- Lee Tistaert
Weekend Outlook Chat (March 4 - 6)
March 3, 2005 Like Starsky & Hutch, {Be Cool's} not going for the original audience, it's going for younger crowds. -- Staff of LMI