Movie Review
Borat: Cultural Learnings of America for Make Benefit Glorious Nation of Kazakhstan

Borat is mostly just gag after gag after gag, and it works damn well.
Borat is based on Da Ali G Show, (shown in the U.S. on HBO, and available on
DVD
) in which comedian Sacha Baron Cohen played three characters ? Ali G (a wannabe hipster/pimp), Borat (a na?ve foreigner), and Bruno the gay fashion expert. Now I have to admit that for a while I had heard about the show and didn?t have any great desire to catch it; it sounded really stupid. But this year I forced myself to watch some episodes and surprisingly liked it quite a bit. The series was a clever piece of work on stupidity, with each character never realizing how dumb they sound. And what made it most enjoyable is that the characters interacted with professional people ? even some of the biggest political figures, and were an absolute idiot in front of them.
update Borat Box Office: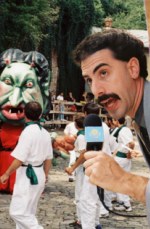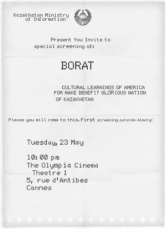 Borat reporting and an invitation to a screening of Borat at Cannes
Borat is a character that only had one bit on each episode, and his sketch was usually the highlight of each. Picture Roberto Benigni?s enthusiasm and just take away all common sense and any sense of reality and you?ve got what makes Borat one of the funniest personas ever created. After watching some of the show I figured there had to be an underground audience that loved this character and I could clearly see why a studio would grant him his own movie; his segment on each episode leaves you desiring more ? it was very effective. But of course the danger at stake in adapting sketch comedy into a feature-length movie is making sure it?s not just a one-joke concept, and making sure the jokes and gags are consistent. And Borat achieves that with great honor; it?s funnier than The 40-Year-Old Virgin, Bad Santa, and Old School. If you?re a fan of the show, Borat will deliver exactly what you want, and possibly more.
The movie is shot very much like Jackass and has a big cult feel to it; you can expect frat houses to have the DVD on repeat in the next few years. Borat (played by Cohen) lives in Kazakhstan as a TV reporter and decides to make a quest to the United States where he will set out to marry his lifelong infatuation, Pamela Andersn. Once in New York, he is one giant fish out of water, as he doesn?t know anything about the culture or the customs. He is only used to his homelands where it?s legal to sleep with his sister (which he has) and there?s practically no such thing as a taboo in his culture. Borat speaks his mind all the time (and focuses on women and sex most of the time), which is always humiliating for whomever he is talking to; he has no idea that what he?s saying is just downright ?wrong.?
Borat as a feature is mostly just gag after gag after gag, and it works damn well. I saw The 40-Year-Old Virgin many months early, as well as Starsky & Hutch, and I?ve never seen an early audience go as nuts over a movie as they did for Borat. Once the camera was on Sacha about a minute in, the audience burst into cheers and applause, and their enthusiasm continued throughout the movie. The film gets right to the point with offensive and vulgar comedy and doesn?t leave anyone from being in harm?s way (Cohen is Jewish himself and famously attacks the religion). Obviously this movie demands a certain sense of humor; if you?re easily offended, stay far, far away. The film is packed with nasty and gross-out humor, and there is one nude fight sequence (the clear audience favorite and a potential DVD deleted scenes segment) that is going to have an interesting time with the MPAA. In fact, I would not be surprised if some of the material is cut out before its theatrical release; I was amazed that some of it actually got through to us alone.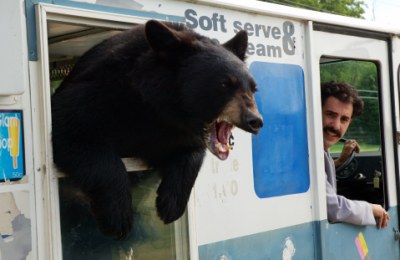 Yes, that is a real bear
Because the movie is founded in foul comedy, it?s going to be very interesting to see how 20th Century Fox will market it. 40-Year-Old Virgin was hard enough for Universal to advertise sufficiently (on a PG-13 level) and this movie takes a lot more risks with raunchy content. Ultimately Fox?s goal should be to stem beyond the show?s cult audience; and even if you?re not accustomed to the character of Barat, you just need to like material that pushes the limits. If the studio plays their cards right, this could be a sleeper hit like Steve Carrell?s breakout comedy. It?s hard to imagine that this year will deliver a funnier, edgier comedy; nowadays, many comedies play it safe in fear of offending someone, and it?s nice to see one that doesn?t care. Borat is set to open on November 3, and I can?t wait to see it again just to watch it with another audience.
'Borat' Box Office Preview
Box Office Potential Diagram
'Borat' on YouTube
Borat Fansites
Borat on CNN
Lee's Grade:
B+
Ranked #1 of 177
between The Departed (#2) and (#) for 2006 movies.
Lee's Overall Grading:
3025 graded movies
| | | |
| --- | --- | --- |
| A | 0.4% | |
| B | 30.0% | |
| C | 61.7% | |
| D | 8.0% | |
| F | 0.0% | |
'Borat' Articles
'Borat' Early Sellouts Report
November 3, 2006 With 837 theaters, the major markets and college towns will make up a decent chunk of the movie's revenue (where Borat is likely to explode), and the early sellouts indicate potential pent-up demand. -- Lee Tistaert
Craig's review A-
October 26, 2006 Borat is designed to offend just about everybody...but [it's] deeper than that; Cohen is plumbing the depths of American sensibilities. -- Craig Younkin
'Borat' Box Office Preview
October 19, 2006 $20 million is possible for an opening just about as much as the teen range is, but the hardcore R-rating and season could keep it from reaching the long-term success of 40-Year-Old Virgin. -- Lee Tistaert